Plain English, greater clarity, more style; that's just the beginning.
Business at the speed of light
In today's world, you either conduct business at the speed of light or you have no business.
Today's customers, tomorrow's customers, your employees and your supply and distribution partners, they all want information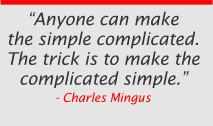 they can use. And they want it now. Clear, concise communication is not just desirable. It's crucial to your business's success.
Greater clarity
As business owners and managers, you already know what you want to say. And you know who you want to say it to. Now KiwiStreet can help you say it with greater clarity.

More style
Our team of writers and editors have the skills and experience to ensure your message gets through clearly and stylishly - whether it's on screen, on paper, or face-to-face.
Each of our team members is highly experienced. Each is a champion of Plain English. Each has a deep understanding of the mechanics of effective commercial communication.

Between them, they have written and edited for some of the world's biggest brands. They've also helped some of the world's most successful 'corner stores' to become even more successful. Now they are ready to help your business.


Many managers know that poor written communication can damage an organisation's image and reputation.  But that's only part of the story.  Poor written communication has real cost implications.
Customers who can't understand exactly what you are saying – exactly what you are saying – usually have two or three options.  And they all cost you money.
................................... more
One of my friends sometimes hears well-intentioned suggestions as hard-and-fast rules. For example, she once heard a TV chef suggest that a spoonful of sugar might 'add something' to a particular stir fry. She now believes that all stir-fried dishes must include a spoonful of sugar. No exceptions.
When it comes to the craft of writing, it seems many people share my friend's occasional aural affliction.
................................... more
Over the winter I've been rereading Winston Churchill's A History of the English-Speaking Peoples.
Churchill was a lifelong history fan. He was also an excellent writer. He began writing the four-volume history in 1937. But it wasn't until 1956 that the first two volumes were published. The third volume followed in 1957 and the fourth volume, subtitled The Great Democracies, in 1958.
................................... more
I just heard a chap on the radio, a senior civil servant of some sort, saying that his was a policy ministry. It didn't actually do things.
The chap was explaining why something that his ministry had done had not been done very well. A further truckload of taxpayers' money would be required to put it right. In the meantime, however, his policy ministry would be 'conducting a review', 'identifying best practice opportunities', 'preparing a report'. After 'consultation with relevant stakeholder communities' he hoped to 'agree terms of reference within an appropriate timeframe'.
................................... more
A client phoned the other day to ask if I thought prognose was a real word. 
I assured her it was. But she was unlikely to find it in an everyday dictionary. And her spellchecker would probably reject it. Nevertheless, prognose has been part of the English language for about a hundred years. It's a back-formation from prognosis. And you will find it in the two-volume Shorter Oxford English Dictionary. 
Why did she ask?
................................... more
A UK academic, Ken Smith of Bucks New University, suggests that common spelling mistakes should be accepted into everyday use.  He says we already accept alternative spelling for a number of words, so why not for a few more.
Does it really matter if we write arguement for argument or truely for truly? And does i really need to precede e (except after c)? Mr Smith suggests that, retrieve or retreive, it's still pretty clear what the writer means
................................... more
solution, n, the act or means of solving a problem or difficulty
Business A says it provides 'enterprise productivity solutions'. Business B says it provides 'innovative transport solutions'. While Business C tells us to 'look no further for aquatic education solutions'.
On further investigation, we discover Business A actually sells software. (What a surprise!) Business B is a truck leasing business. And Business C teaches people – mainly kids – to swim.
................................... more